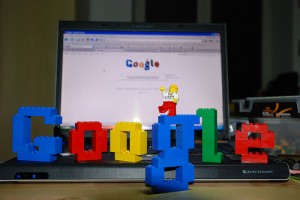 I'm pretty diligent about reading contracts and terms of use, and by "diligent", I mean "annoying". Just ask my wife- we can't shop at a store without me first reviewing in detail the return and privacy policies. You know the disclaimers on the back of ski lift tickets and dry-cleaning receipts? I actually read those, and admonish those who don't. Sometimes, when I see a term I don't like, I cross it out and make a snide remark like "Well, I'm not agreeing to that…". Yup, I'm that much of a geek.
But every now and then, I slip up. Such was the case on Tuesday when, in a tech-geek daze not unlike a toothless meth head running down the street with a stolen bike, I downloaded Google Chrome and quickly clicked through all the install screens. I didn't pause to read the EULA, or even give it a cursory glance for the sake of keeping up appearances. Nope, I just clicked right through and began to take in the new and not-so-new wonders of Chrome, almost like a normal person would do.
Such an oversight would normally be inconsequential, and I would have agreed to just another boring, unnoteworthy EULA. But of course, the one EULA that I skip turns out to be one of the most ridiculous agreements in modern memory. It's like the one time you forget to close your sunroof, it rains blood. Here's what I inadvertently agreed to:
11.1 You retain copyright and any other rights you already hold in Content which you submit, post or display on or through, the Services. By submitting, posting or displaying the content you give Google a perpetual, irrevocable, worldwide, royalty-free, and non-exclusive license to reproduce, adapt, modify, translate, publish, publicly perform, publicly display and distribute any Content which you submit, post or display on or through, the Services. This license is for the sole purpose of enabling Google to display, distribute and promote the Services and may be revoked for certain Services as defined in the Additional Terms of those Services.

11.2 You agree that this license includes a right for Google to make such Content available to other companies, organizations or individuals with whom Google has relationships for the provision of syndicated services, and to use such Content in connection with the provision of those services.
In non-lawyer terms, the original Chrome EULA granted Mr. Google and his minions an unlimited license to use and reproduce anything viewed or posted using the Chrome browser. That means anything you publish on the web, from your family photos to inane blog posts, can be used by Google. Just imagine the surprise of opening the Google (yes, I refer to it as "the Google"- it has a nice old-timey feel to it) and seeing the picture you took of Uncle Chester at his 80th birthday party being used as the new Google Chrome logo!
Now there are all kinds of arguments as to why this term would not be enforceable- to enforce something so unorthodox and onerous, Google would likely need to do more than just bury it in 10 pages of legalese. It's also interesting that the source code is open, and the more tech savvy among us could just download and compile it themselves, bypassing and EULA that Google tries to attach.  
Thankfully for both me and for Uncle Chester, it has become a moot point. Some people with more sense and restraint than I picked up on this term and started stirring up all kinds of internet muck, and Google soon blinked. Google's legal counsel (btw: dream job) claimed it was all a big misunderstanding and released a new, retroactive EULA that isn't quite so Orwellian. The new s. 11 now reads:
11.1 You retain copyright and any other rights you already hold in Content which you submit, post or display on or through, the Services.
Gee, thanks Google!
So, your browsing is now safe once again. Well, not really- the browser is still rumored to have all kinds of devious little tracking devices that record your keystrokes and render your tinfoil hat useless, but that's a post for another day.
Is there a moral to this post? It could be "always read before you sign", but I know that nobody is going to listen to that, myself included. I guess the moral is that even when you don't take care of yourself, the internet is there to take care for you.
Photo by Manfrys.